Loner M6i (ATEX)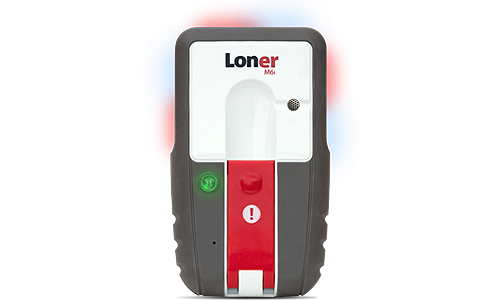 The Loner M6i is an intrinsically safe monitoring device with 3G wireless and two-way voice calling
Employees working alone within hazardous environments face the risk of injury, health incidents and physical assault in the workplace. Blackline's Loner M6i is ATEX certified intrinsically safe and continuously monitors the safety of lone workers and alerts monitoring personnel in real-time if the unexpected occurs. Respond in the fastest time possible—to your employee's precise location with Loner M6i.
Features
Intrinsically safe – ATEX certified for hazardous locations.
Two-way voice calling – Monitoring personnel can speak with the employee.
SureSafe monitoring light – Confidently know when safety is monitored.
True Fall Detection & alerting – Differentiates falls from other activity.
Emergency latch and alerting – Help is a latch release away.
Motion monitoring and alerting – Lack of worker motion generates alert.
GPS Positioning – Unlimited live, continuous and scheduled locating.
Precise indoor positioning – Location beacons provide adjustable resolution.
Benefits
Global awareness of your workforce's real-time safety
Quickly mobilize an emergency response by mapping worker locations in Loner Portal
Real-time safety alerting increases awareness of safety incidents
Achieves regulatory compliance as required in some regions
Reduces mobile worker anxiety about safety
An automated system that does not require manual worker check-in
Immediate alert is triggered when the worker is incapacitated
Customizable location scheduling provides bread-crumb of worker locations
Easy training for workers and monitoring personnel
Affordable for both small business or corporate deployment
Compatible with Loner Beacon indoor / outdoor location technology
Loner Background Services alert monitoring personnel even when Loner Portal is not used
Emergency escalation list provides multiple layers of alerting to ensure an incident is addressed
Loner Web Services enale software developers to integrate safety monitoring within a call centre
Easy to use web-based Loner Portal for efficent mapping and setup
Customizable Loner Portal account inmplementation for diverse customer needs
Sharing of Loner devices across multiple Loner Portal user accounts
Firmware upgradable over-the-air accommodates future enhancements
Web-hosted Loner Portal user account—no software to install